Ideal for cash intensive businesses, VersaSafe is a remarkably fast, secure and accurate smart safe system. With the compact VersaSafe, retailers will spend less time counting cash and have a much more secure automated cash trail. Using VersaLink with your safe makes scheduling armored car pick-ups easier and less frequent. VersaSafe helps reduce internal shrinkage by eliminating cash touchpoints and external shrinkage by allowing retailers to secure cash quickly. 
PROVISIONAL CREDIT
The VersaSafe running VersaLink can facilitate provisional credit and enhance reconciliation while reducing the float time associated with cash deposits to less than 24 hours. With VersaLink and an established banking institution you can set up provisional credit where once an end of day close report is completed, deposit data can be transmitted to your financial institution. Using VersaLink, credit is extended to you while funds reside securely within the VersaSafe — giving you almost immediate access to your money. 
POWERFUL & FLEXIBLE
Available in a variety of product configurations, all with touchscreen technology, Triton's VersaSafe and VersaLink put retailers in control. The powerful VersaLink allows you to track transactions, view cash levels and the overall safe health remotely. It sends notifications via e-mail or text message and makes managing your accounts simple with a wide range of custom reports. 
MADE IN THE USA
Easy to operate and easy to service, VersaSafe is manufactured in the United States by Triton. A trusted name in the business world for more than 40 years, Triton pioneered retail ATMs and is known for providing reliable and affordable cash-related products and services.
Features up to two bill acceptors with locking 1,200-note cassettes and can optionally be fitted with bunch note feeders.
With a color touch screen display and a simple interface, VersaSafe makes it easy for you to customize its functions. It tracks and timestamps every transaction, allowing you to be more effective and efficient than ever. A high-capacity electronic journal even stores thousands of transactions and user histories for reference.
Dimensions

w/o BNF 28.44 h x 26.208" w x 24.5" d

w/ BNF  28.44" h x 26.208" w x 26.2" d

Weight
465 lbs
Power
Input 85-264VAC, 50/60Hz
Hardware

Two bill validators (up to 2,200 note capacity each)

7" Capacitive WVGA Touch Screen

60mm thermal printer

Cash drop slot with anti-phishing design

OS

 

Windows® CE®
Security

Heavy duty 1/2"-steel vault UL291 level 1 rated

Electronic lock

Vault door relocks

Vault door switch alarm

5 bolt floor anchoring

TCP/IP interface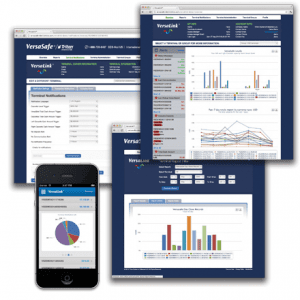 Tracks all transactions and activities from any device with web access. 
View cash levels, both validated and dropped, in order to optimize cash-in-transit visits.
View, print and save personnel, shift-end and end-of-day audits.

Update VersaSafe software and bill validator firmware remotely.
Manage user accounts and VersaSafe settings.
Dispatch technicians via text message or email notifications.
Determine the overall health of the VersaSafe.
Complete versatile reporting; users can specify a variety of filters to create customized reports specific to each business or safe.