Triton introduced the 9100 in 2002; it turned out to be Triton's most popular model. So much so that we have turned over hundreds for our Certified Pre-Owned program and you can find them for sale on www.atmgurus.com. Here is how we described the 9100 way back in the day.
The 9100 is our best selling ATM. This extremely popular machine was designed to be a low cost, high-performance ATM. And it has proven to be ideally suited for owners who need functionality and performance at a lower price point.
The 9100 delivers Triton's unparalleled reliability and offers a number of additional features designed to maximize uptime, such as automatic error recovery. 
And even though the 9100 features a low cost of ownership, it still incorporates many of the ATM industry's tightest security features, such as VISA Encrypting PIN Pad (VEPP) and Triple DES, the new standard for PIN encryption. Dollar for dollar, Triton's 9100 is simply the most cost-effective ATM in the industry, bar none.
Compliance/Upgrades

EMV
Option
PCI 5
ADA
Option
X3
NFC
Anti-Skim
Card Reader

Screen Size
5.7″ color VGA LCD screen (standard) high bright.
UL291 Certification
Business Hours
Printer
60mm Printer

Keypad

ADA Compliant PCI 3.1 Compliant Triton Key Management Option

Card Reader

Dip (standard) EMV

Cassettes
1
Lock
Dial Standard
Electronic Option
Kaba Mas Cencon Option
Communication
Triton Modem
IP is possible with an external device
Signage
No Topper (standard)
High topper (option)
Additional Features
Triton Connect Option


High Security Control Panel Lock Option

Dimensions
Business Hours Cabinet 16.8″ L x 17.2″ W  x 49.5″ H
Weight Business Hours 230 lbs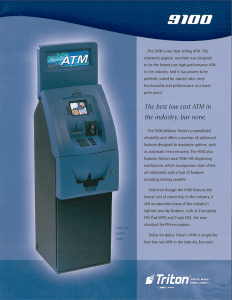 MANUALS