Triton launched the 9600 series in 1997. Considered the workhorse of the industry, thousands of these machines are still in the marketplace more than 10 years later. The machine incorporated a number of ways to help retailers build ATM traffic including an all-new compelling modular design that can easily be upgraded, low and high-visibility signage and a color screen with advertising capabilities. Manufactured from 1997-2003.
Technical Specifications
Customer Display
Backlit LCD, gray scale (color optional), 340×240 resolution graphics capable (supports .bmp files)
Receipt Printer
Fixed head thermal printer, 12 lines per second print speed, graphic capable, supports bar codes, 60mm wide paper
Modem
2400 baud standard, 14,400 baud optional
Journal Data Storage
Standard electronic journal, optional floppy disk storage and program update capability
 
 
Operating Specifications
Temperature
10-40℃; 50-104℉
Relative Humidity
20% – 80%, non-condensing
Power Requirements
100-250 VAC, 50-60Hz; 2.4A @ 115 VAC; 2.2A @ 220 VAC
 
 
Dimensions
Height
57.5″ – 59″ (range reflects 1.5″ adjustable base)
Width
18″
Depth
23.5″
Weight
275 lbs.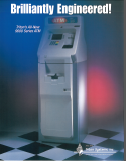 MANUALS
KITS AND UPGRADES