Triton's 9700 series ATMs are the perfect low-cost solution. These machines offer legendary Triton realiability and a host of standard features.
A workhorse for the ATM market the 9700 also gives you more flexibility where you need it most, cash capacity, as evidenced by the multiple dispenser options and ability to hold up to four cassettes.
The 9700 further proves our commitment to compliance by having many upgrade solutions.
Compliance/Upgrades

EMV
Option
PCI 5
ADA
Option
X3
NFC
Anti-Skim
Card Reader

Screen Size
5.7″ color .
UL291 Certification
Business Hours
Printer
60mm Printer

Keypad

ADA Compliant PCI 3.1 Compliant Triton Key Management Option

Card Reader

Dip (standard) EMV

Cassettes
1
Lock
Dial Standard Electronic Option
Kaba Mas Cencon Option
Communication
Signage
No Topper (standard) High topper (option)
Additional Features
Triton Connect Option

High Security Control Panel Lock Option

Dimensions
Business Hours Cabinet 16.8″ L x 17.2″ W  x 49.5″ H
Weight Business Hours 172 lbs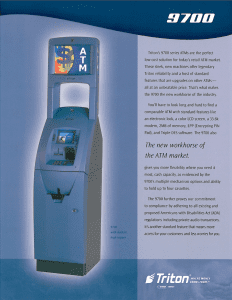 MANUALS